How to tame the new Google Keyword Planner?

Keyword research is the cornerstone of almost every digital marketing activity like search engine optimization, PPC campaigns, website launch or redesign, as well as competitor analysis (which Zoran wrote about in one of his blog posts). If it's properly done, it can prove itself as one of the highest return activities in the field of search advertising. In fact, you shouldn't start any digital marketing activity without proper research, simple as that.
One of the most popular "free" tools (you need to have Google Ads account) for doing a proper keyword research is Google's Keyword Planner which can be found in Google Ads (ex. AdWords) interface. In 2016 Google started with the gradual rollout of a new AdWords UI, which became available to everyone at the end of the 2017. Due to large differences and changes, the new interface has met a rough reception – lots of users got scared or annoyed of those changes and there was a lot of neglect from the marketers, but also positive criticisms which helped Google improve their products and fix all of the bugs and disadvantages (yes, they're listening to their customer feedback).
Later on, or more precisely this year Google announced the rebranding of several products, as well as AdWords which got the already mentioned new name – Google Ads.



In this article we'll try to show you major changes, tips and tricks on how to tame a new interface of the key tool within Google Ads – Keyword Planner.
But I don't want to move to the new interface!
We're sorry, but you'll have to adapt because Google plans to fully switch to the new Google Ads experience probably by the end of 2018.
So, what's new?
New interface disadvantages
Let's start with the disadvantages. (Google knew I was planning to write this post, so in the meantime, they fixed some of the bugs I was planning to write about.)
Number of seed keywords
At the first rollout of the new Google Ads interface, we could insert only three seed keywords when looking for suggestions, compared to the 200 keywords on old UI. This is a drastic reduction which affected the speed of keyword collection.
Good news: We could be optimistic because right now they increased the limit of 10 keywords and 1 URL, as well as the POV that the algorithms probably show more accurate data with less input.

Missing Data
The previous UI provided more suggested keywords in comparison to the new UI.
Good news: While there is a small drop in the number of suggested keywords, in the last few weeks I have noticed an increase in their number. However, you know you didn't use the most of these suggestions because they didn't apply to what you're looking for.
Seed keyword not shown separately
While this isn't that much of a problem, the older UI had seed keywords shown separately. In the new UI seed keywords are usually shown as first results, but sometimes they're not shown as that.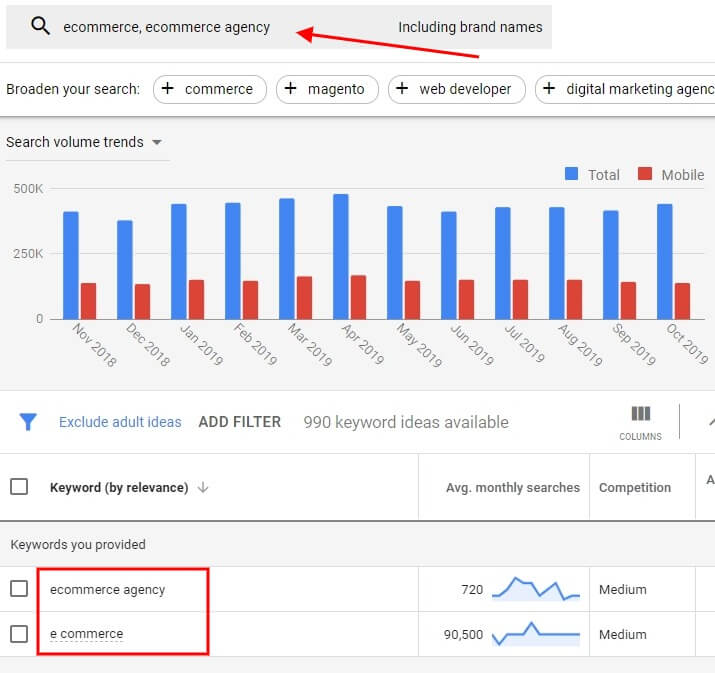 Occasional bugs
Although the new KW Planner is quite "ironed out", there are still occasional bugs that are getting less and less in number every day.
New interface benefits
Looks & speed
It definitely looks nicer, simpler and easier to navigate. Also, there's an improvement in page loading time on both Planner and Ads.
Two new metrics
Organic impressions share – The percentage of times a page from your website showed up in an organic, unpaid web search for a keyword.
Organic average position – Shows how pages from your website rank in organic searches compared to pages from other websites.
Both of them are available if you link the Google Search Console (Webmaster tools) with your Ads account and you rank for the keywords.
To add them, go to columns > modify columns and simply add them to your interface.

Extended historical search volumes and custom time frame
Instead of just 1 year you can now look at the data for up to 4 years, as well as choose a custom time period for the results (depends on the seed keyword).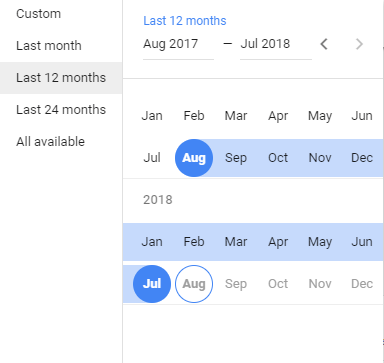 Faster download process
You can download your keyword data much faster now, with just one click as opposed to the previous, more tedious process.
Monthly searches divided by months in the report
When you download your keyword ideas, you can now see separate columns of avg.monthly searches divided by months within the selected time frame.

Mobile search volumes
Another feature that will save you a few mouse/touchpad clicks is that the main search volumes chart now includes the mobile search volume share. You had to change the type of charts in the old version to see this.

Forecasting
In the new interface you can instantly see the keyword performance forecasts in the "Plan overview" section. In the old interface you had to set a bid to get the results. New interface doesn't have an option to play with the bid settings.
The forecast includes all the usual metric, numbers, devices and locations breakdowns on a single page so there's no need to switch between tabs anymore.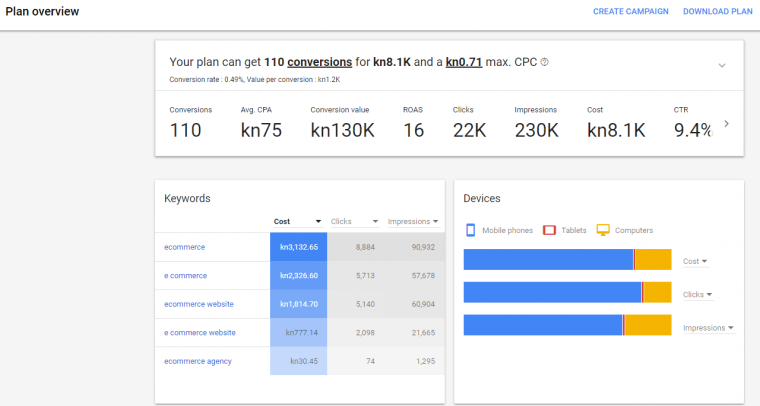 Tips & Tricks
Use filters!
You can filter your results by keyword text, average monthly searches, top of page bid (low range), top of page bid (high range), competition, organic impression share, organic average position, ad impression share, or exclude keywords already in your account. To filter out the negative keywords just use the "keyword text" filter with "does not contain" option. Don't forget to use them because they can save you a lot of time!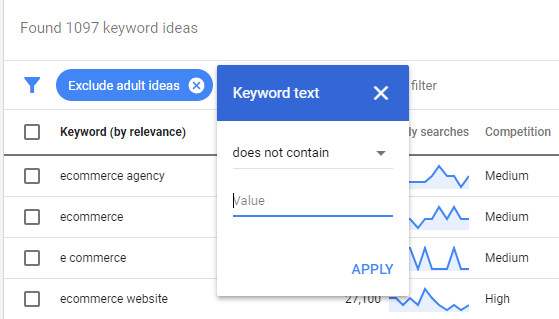 Spy on your competition
Enter the URL of a competitor's web page and get some new ideas. If you see a lot of branded keywords – use filters to exclude them and pick just the ones you need!

Find the questions!
Filter keyword text with keywords that contain questions who, what, why, where, when, how… This can be helpful in finding new blog post ideas and much more.
Edit: Use only one "keyword text contains" filter because Keyword Planner doesn't (yet) support multiple keyword filters.

Focus on the right metrics
Average monthly searches, otherwise known as total keyword volume.
Competition, as in how many advertisers are bidding on this term.
Top of page bid metrics (new), showing you specific bids for ranking high or low on the first page of that term.If you click and select keywords, you can quickly add them to a new ad group plan and choose what match type you want as well:
Can't see exact avg. Monthly searches in downloaded reports?
Google Keyword Planner will show you exact search volume data ONLY if you're running an active Adwords campaign. Otherwise, you will see a range of avg. search results.

There's nothing wrong with using these ranges to help you choose your keywords, but if you want more precise results – you need to have an active campaign.
And yeah, I almost forgot this – Google will deactivate Google Ads (ex.AdWords) accounts with no spending in the last 15 months:
Starting next week, we're helping speed up your AdWords experience by automatically deactivating accounts that don't have spend in the last 15 months. If you still need access to these accounts, you can reactivate them at any time in AdWords. Learn more: https://t.co/W6laVA4wsW

— Google Ads (@GoogleAds) March 20, 2018
If you still find all of this confusing or don't have time to manage your PPC campaigns, feel free to contact us for professional PPC management or full marketing & usability audit. And did I mention that Inchoo is a Google Premier partner so there's no worry that your campaigns are in safe hands.
What are your opinions on the new interface? Did you have any problems with switching?
Related Inchoo Services