Meet us in London at B2B Marketing Expo!

B2B Marketing Expo in London is one of the most sought after marketing events for B2B businesses. Knowledge sharing, latest trends in marketing technology, and new business opportunities – that's what you'll find at ExCel London on March 27-28, 2019.
And we will be there – see who's coming and what you can expect from us at this event! You can also schedule a meeting with our team below.
Who's coming and what are we bringing to London?
At this event we will have a 4-person team, a good combination of eCommerce consulting, marketing and business development people so that we can have quality conversations with visitors and other exhibitors.
We will be sharing our expertise in combining eCommerce design, development and digital marketing expertise to help our clients:
complete the digital transformation of their businesses
increase revenues across different channels
outperform their competitors in a number of ways
Some of the results we have achieved for our clients:
You can contact us in a number of ways before the event or meet with us in London at our stand, so we can see how we can help you achieve similar results. We will also have a speech (more details below) where you can learn more about our processes. Read on to find the best ways to meet us.
Learn from us (and other great speakers)!
The speaker's list for this event is truly great, and we have no doubt that the speeches will live up to high expectations visitors will have of this event. And we will be on stage too – our eCommerce Consultant and Digital Marketing Team Leader Vanja Bunjevac will share some of the results we were able to achieve for our clients using the latest technologies available, and more importantly, how we did it.
The presentation is going to be rich with useful data and very educational for those of you who are starting to discover the possibilities of machine learning to grow your businesses further. And for those who have already embraced this approach, there's always room for improvement, isn't there?
Look for B2B Theatre 25 on Thursday, March 28th and be there at 10:15 when Vanja will share his insights during the presentation entitled "Data-driven decision making: Embracing technology for triple-digit growth".
Meet with us!
If you are visiting the Expo (order FREE tickets to the event here), take the opportunity to meet our team. We would love to learn about your businesses and the challenges you're facing. If those are technical or marketing ones – we can help! We have a track record of helping our clients completely transform their businesses using the latest technologies available.
Where to find us?
We will be exhibiting at stand 1670, close to Seminar Hall 14, so it will be hard to miss us. Take a look at the floorplan to see exactly where we'll be.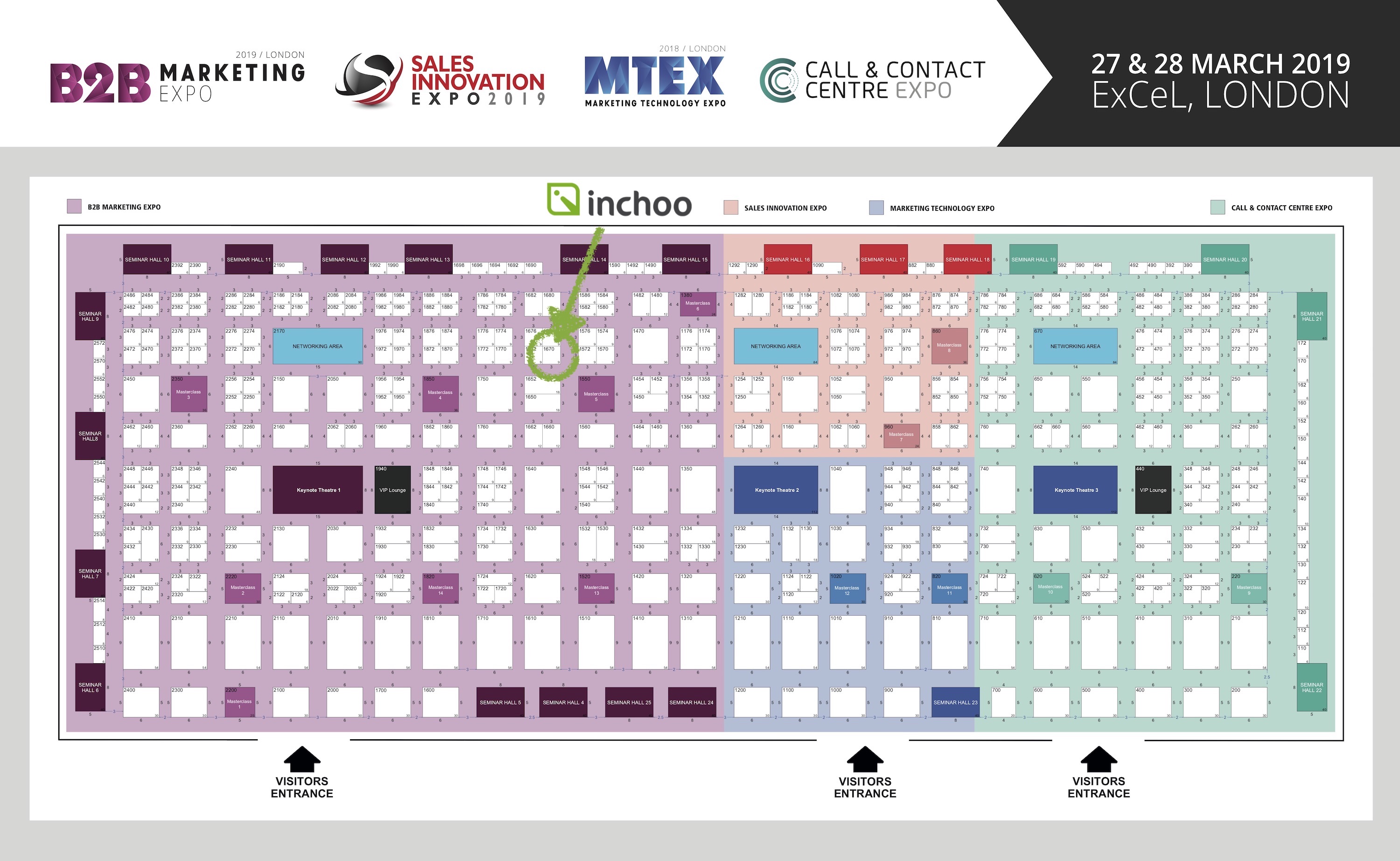 Feel free to drop by anytime, even if you haven't booked a slot.
See you soon in London!!!
Related Inchoo Services